---
Why So Many Multi-Billion-Dollar Pharma Giants Are Teaming with Oncolytics Biotech Inc. (NASDAQ:ONCY) (TSX:ONC)
---
EDITOR'S NOTE* This page was last update on January 8, 2020 to reflect a price target increase on ONCY from $6.80 to $8.47
---
Amid the fierce war being waged against cancer by drug developers, there's a biotech segment growing at lightning speed (+20% CAGR)… they're front and center in the oncology space.
That segment is known as checkpoint blockade immunotherapy (or immune checkpoint inhibitors). You can be forgiven if you're unfamiliar with the sector, but we urge you to read on to learn more about this exciting opportunity.
Projected to reach more than $56.5 billion by 2025, the global immune checkpoint inhibitors market is growing at CAGR of 20.1% — it's the fastest growing segment of immuno-oncology.
Accompanying that market is a currently little-known company whose flagship drug is poisedto be combined with two highly anticipated drugs from multi-billion dollar giants, whose combined values are forecasted to be approximately $17 billion by 2024.
That company is Oncolytics Biotech Inc. (NASDAQ:ONCY) (TSX:ONC)
Oncolytics Biotech Inc. (NASDAQ:ONCY) (TSX:ONC) is a development stage biotech company developing an immuno-oncology virus (called pelareorep) that's currently being studied for potential combination with Opdivo® from Bristol-Myers Squibb Company (NYSE:BMY), Roche's Tecentriq, Pfizer's & Merck KGaA's Bavencio, as well as Keytruda® from Merck & Co., Inc. (NYSE:MRK).
---
Watch this short explainer video, then continue reading below:
ANALYST OVERVIEW:
Company – Oncolytics Biotech Inc.
Consensus – STRONG BUY
Price Target – $8.47 USD / Share
Increase +/- = +134.63% (approx. from current price)
Source: View the price target directly on NASDAQ.COM here
---
Let's now take a deeper look into why many of the world's largest drug developers are actively teaming with this under-the-radar company, Oncolytics Biotech Inc. (NASDAQ:ONCY) (TSX:ONC), to fight against cancer.
POWER-PACKED COMBOS WITH PHARMA GIANTS
Oncolytics Biotech Inc. (NASDAQ:ONCY) (TSX:ONC) is currently focused on combining its flagship pelareorep's broad applicability to boost the effectiveness of a range of the biggest names in the immunotherapy sector across multiple cancer indications —including studies with Bavencio®, Keytruda®, Opdivo® and Tecentriq®.
With an immediate focus on checkpoint inhibitors, Oncolytics' primary objective is to obtain regulatory approval for pelareorep as quickly as possible.
Pelareorep comes with very compelling metastatic breast cancer survival data, and synergies with checkpoint approved inhibitors and positive clinical biomarker data.
The company's second objective is to expand pelareorep into commercially valuable new treatment areas including other immunotherapy agents in collaboration with pharmaceutical partners.
Oncolytics has established a successful partnership with Adlai Nortye in China, Hong Kong, Macau, Singapore, South Korea and Taiwan. As per the relationship, there is involved an upfront and milestone payments of up to $86.6 million, with $65 million tied to potential development expansion.
But perhaps most notable are the 4 ongoing studies Oncolytics is performing with Pfizer, Merck KGaA, Merck, Bristol-Myers Squibb and Roche. These involve checkpoint inhibitors, targeting metastatic breast cancer, early stage breast cancer, multiple myeloma and pancreatic cancer.
Pfizer Bavencio® Co-Development
Pfizer Inc.
(NYSE:PFE)
Share Price: $36.22
Market Cap: +$200 Billion
Merck & Co.
(NYSE:MRK)
Share Price: $82.91
Market Cap: +$212 Billion
Oncolytics entered into a co-development agreement with Pfizer and Merck KGaA to develop pelareorep in combination with paclitaxel and Bavencio®, a human anti-PD-L1 antibody, for the treatment of hormone-receptor positive, metastatic breast cancer.
Sales of Bavencio® more than tripled
from ~US$23 million in 2017, to ~US$75.5 million in 2018.
Oncolytics and Pfizer will share costs associated with the phase 2 clinical trial, an open label study that will enroll 48 patients into three cohorts: paclitaxel alone (15), paclitaxel in combination with pelareorep and paclitaxel in combination with both pelareorep (15) and avelumab (18).
Roche Tecentriq® Collaboration
Roche Holding AG (OTC:RHHBY)
Share Price: $36.46
Market Cap: +$248 Billion
Oncolytics entered into a Master Clinical Supply Agreement with Roche to supply atezolizumab (Tecentriq®) at no cost for use in the company's clinical development program. The supply agreement enables Oncolytics to further investigate pelareorep's impact on cancer treatments in combination with atezolizumab and has already been incorporated into the company's clinical program with the SOLTI WOO study in breast cancer.
Sales of Tecentriq® totaled $766 million in 2018 [[5]]
Data from the current study with Tecentriq will broaden Oncolytics' experience with the entire drug class as the company looks to demonstrate the impact of pelareorep with checkpoint inhibitors. Under this five-year Master Clinical Supply Agreement, Roche will supply Tecentriq for the proposed clinical trial with both parties having access to the clinical data.
Merck Keytruda® Combination
Merck & Co. (NYSE:MRK)
Share Price: $82.91
Market Cap: +$212 Billion
Oncolytics is combining pelareorep with Merck's anti-PD-1, pembrolizumab (Keytruda®), in two Investigator Sponsored Trials (IST's). The goal is to expand the use of checkpoint inhibitors as anti-cancer agents by promoting an inflamed phenotype in the tumor or turning cold tumors hot.
Sales of Keytruda® were $7.2 billion in 2018 [5]
The first study in second line pancreatic cancer will enroll approximately 40 patients with advanced pancreatic cancer. The second study is in multiple myeloma and will continue to build on Oncolytics' I-O program by combining proteasome inhibitors and pelareorep to demonstrate an increase of PD-L1 expression on multiple myeloma cells and recruitment of T-cells to the bone marrow.
Bristol-Myers Squibb Opdivo® Combination
Bristol-Myers Squibb (NYSE:BMY)
Share Price: $50.22
Market Cap: +$82 Billion
Oncolytics Biotech Inc. (NASDAQ:ONCY) (TSX:ONC) is combining pelareorep and nivolumab (Opdivo®) from Bristol-Myers Squibb with a proteasome inhibitor for patients with relapsed/refractory multiple myeloma. The study expands on Oncolytics' strategy of investigating the importance of systemic pelareorep administration followed by checkpoint blockade.
Sales of Opdivo® were $6.7 billion in 2018 [5]
This combination study will not only help demonstrate the specific role of pelareorep in promoting an inflamed phenotype, it should also help demonstrate how the virus can promote responses to checkpoint blockade in cold tumors.
HOW DOES IT WORK?
Oncolytics Biotech Inc. (NASDAQ:ONCY) (TSX:ONC) is a development-stage biotech company that's developing an immuno-oncology virus for the treatment of cancer, both solid and liquid tumors.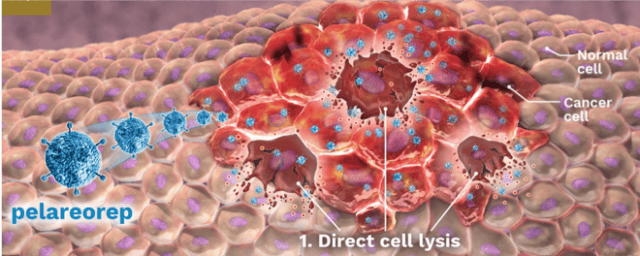 The virus is administered systemically into the bloodstream, where it specifically targets and enters cancer cells where it replicates itself. This process engages the body's immune system to infiltrate and attack the cancer cells.
Unlike chemotherapy, immunotherapy trains the body to naturally recognize, target and eliminate only cancer cells throughout the body, whereas chemotherapy targets all fast-growing cells in the body.
To destroy cancerous tumors, chemotherapy relies upon a much broader attack that hits all rapidly dividing cells in the body, both cancerous and non-cancerous, such as hair follicles and the lining of the stomach—which is the cause of chemotherapies infamously serious side effects.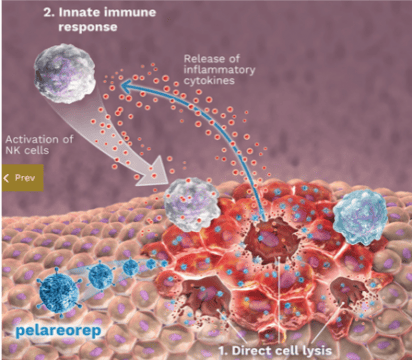 Immunotherapy can both activate a stronger response within the body, while also teaching the immune system to identify and destroy cancer cells.
Pelareorep can potentially be combined with a number of checkpoint inhibitors, which are a class of compounds that block the proteins which keep the body's immune system from naturally seeing a tumour.
When combined with these, pelareorep can cause more inflammation in the cancer cells, thus allowing the body to fight off the tumours faster and more effectively.
The product has already demonstrated that it can double the overall survivability of women with hormone-receptor, metastatic breast cancer. This is a TREMENDOUS improvement for patients.
Oncolytics Biotech Inc. (NASDAQ:ONCY) (TSX:ONC) has identified a biomarker which allows the company to predict which women are most likely to respond to the treatment—and can confirm that response in as little as 3 weeks.
Pelareorep is currently being manufactured at commercial scale in its final formulation under a commercial supply agreement with the life science business of Merck KGaA, who will manufacture all necessary product for clinical testing, as well as commercial product subject to the receipt of regulatory approval.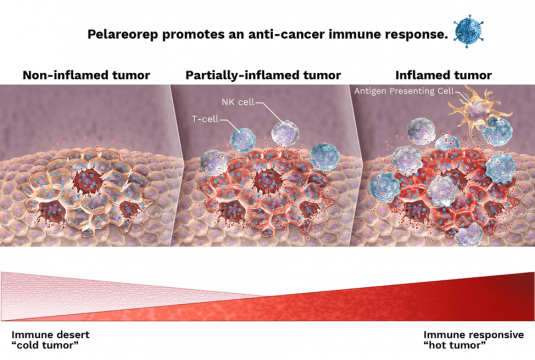 WHO IS BEHIND IT?
Oncolytics Biotech Inc. (NASDAQ:ONCY) (TSX:ONC) is led by a qualified team of professionals, helmed by Co-Founder, Director, President & CEO, Matt Coffey, PhD, MBA.
Dr. Coffey completed his doctorate degree in oncology at the University of Calgary with a focus on the oncolytic capabilities of the reovirus. The results from his research have been published in various respected scientific journals, including Science, Human Gene Therapy, and The EMBO Journal.
He's joined by Chief Medical Officer, Rita Laeufle, MD, PhD, who brings more than 15 years of experience in drug development, specializing in oncology. She most recently served as VP of Clinical Development & Medical Affairs at SFJ Pharmaceuticals, where she developed a clinical program for a new drug substance class in colon cancer. She has also served as Senior PD Medical Director and Clinical Science Leader in Oncology at Roche, where she worked with Avastin for the treatment of breast cancer. There she successfully maintained approval for Avastin in first line metastatic breast cancer in combination with paclitaxel in Europe and ROW (rest of world). She has also served in senior roles for Novartis, Clovis Oncology, Genentech, and Altana Pharma.
Serving as the Global Head of Business Development is +25-year biopharmaceutical commercialization and business development veteran Andrew de Guttadauro. He's held executive and senior-level positions at leading pharmaceutical and biotechnology companies, including as VP of Corporate Development at Vical supporting the execution of distribution agreements for Allovectin®, and a variety of positions at Amgen where he contributed to the success of Enbrel®, Aranesp®, and Epogen® before joining MedImmune to lead marketing efforts for the FluMist® inhaled influenza vaccine. He also served as Director of Strategy at Biogen Idec.
Joining them in the role as VP of Product Development is biotech-focused professional engineer Allison Hagerman, Peng, PMP, who joined the team in 2010. Ms Hagerman has served multiple roles within the company, including Vice President of Product Development, and Director, Manufacturing and Engineering, as well as Project Manager. She has led the process performance qualification for pelareorep drug substance.
The Chair of the Board is Wayne Pisano, MBA, whose more than 30 years experience includes being recognized as Pharma Executive of the Year by the World Vaccine Congress in 2010. He served as the President and CEO of VaxInnate, and has been a Board Member of Immunovaccine since 2011. He is the former president and CEO of Sanofi Pasteur, one of the largest vaccine companies in the world. He's credited with driving Sanofi Pasteur's leadership within the worldwide influenza market and capturing 50% of global sales.
The remaining leadership roles, Board of Directors, and Scientific Advisory Board consist of highly qualified members, with senior level experience with such companies and institutions as: Ernst & Young LLP, Equicom Investor Relations, Nabisco, Hospital for Sick Children, Aptose Biosciences, Achillion Pharmaceuticals, National Cancer Institute-Frederick Cancer Research and Development Center, GPC Biotech, Harvard Medical School, Princeton University, Massachusetts General Hospital, EMD Serono, Breast International Group (BIG), SOLTI – Breast Cancer Research Group, Amgen & BMS IO Network and more.
---
Oncolytics Biotech Inc. (NASDAQ:ONCY) (TSX:ONC) is creating a viable drug to stimulate a type of immune response that can synergize with agents called Checkpoint Inhibitors—a potential $56.5 billion franchise, growing at an exceptional CAGR of +20%.
---
10 IMPORTANT POINTS TO REMEMBER FOR
Oncolytics Biotech Inc. (NASDAQ:ONCY) (TSX:ONC)
Oncolytics Biotech is developing a drug in the fastest growing segment of the immunotherapy market projected to be worth $56.5 billion by 2025.
Working towards a combination of flagship drug pelareorep with the two immune checkpoint inhibitor giants expected to be worth a combined $17 billion by 2024.
4 ongoing combination studies with majors including Pfizer, Merck, Bristol-Myers Squibb, and Roche.
Product has already demonstrated it can double the survivability rate of women with hormone-receptor, metastatic breast cancer.
Manufacturing agreement in place with subsidiary of Merck Millipore, a subsidiary of Merck KGaA. .
Potential combination with popular and successful drugs already on the market, such as with Bavencio®, Keytruda®, Opdivo® and Tecentriq®, which together in 2018 combined for nearly $15 billion in sales.
First in class, safe and well-tolerated, intravenously delivered immune-oncolytic virus (IOV) that selectively infects cancer cell, causing adaptive immune responses.
Identified a biomarker that can determine whether a patient is viable for treatment within 3 weeks.
Successful partnership with Adlai Nortye in China, Hong Kong, Macau, Singapore, South Korea and Taiwan, with upfront and milestone payments of up to $86.6 million, with $65 million tied to potential development expansion.
Experienced leadership spanning oncology research, drug development, and other medical fields.
---
USA News Group
Editorial Staff
[1] https://drug-dev.com/multi-blockbuster-drugs-will-drive-immuno-oncology-market-to-34-billion-by-2024/
[2] https://www.alliedmarketresearch.com/immune-check-point-inhibitors-market
[3] https://www.oncolyticsbiotech.com/press-releases/detail/32/oncolytics-biotech-inc-s-reolysin-provides
[4] https://www.emdgroup.com/en/news/q4-2018-07-03-2019.html
[5] https://www.reuters.com/article/us-roche-immunotherapy-idUSKCN1QP20C
[6] NASDAQ.COM – https://www.nasdaq.com/market-activity/stocks/oncy/analyst-research