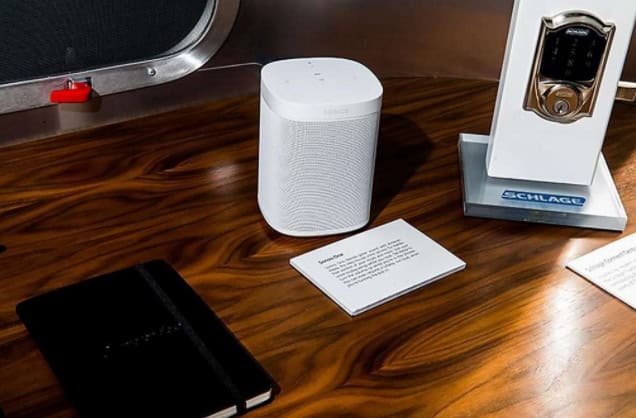 These days, you can find virtual assistants like Amazon's Alexa or Google's Assistant in all sorts of things, from smart speakers and smartphones to washing machines and bathroom mirrors.
The challenge isn't finding these digitized helpers, it is finding people who use them to do much more than they could with the old clock/radio in the bedroom.
A management consulting firm recently looked at heavy users of virtual assistants, defined as people who use one more than three times a day. The firm, called Activate, found that the majority of these users turned to virtual assistants to play music, get the weather, set a timer or ask questions.
Activate also found that the majority of Alexa users had never used more than the basic apps that come with the device, although Amazon said its data suggested that 4 out of 5 registered Alexa customers have used at least one of the more than 30,000 "skills" — third-party apps that tap into Alexa's voice controls to accomplish tasks — it makes available.
But while some hard-core fans are indeed tapping into advanced features of virtual assistants, like controlling the lights in their homes, for the most part, "People are still using these speakers for very routine tasks," said Michael J. Wolf, founder of Activate. "It's not clear that there is something that's going to drive people to use these."
Apple popularized the virtual assistant concept in 2011 when it introduced Siri in its iPhones. About three years later, Amazon debuted the Echo, a speaker packed with microphones to capture and decipher what we're saying to Alexa. Soon, various technology companies were betting that speaking to machines through virtual assistants would be an essential way for consumers to interact with devices and services in the future.
There is a reason tech companies think virtual assistants are so important: They want to control an indispensable "platform" — a crucial piece of technology other services or devices must rely upon.
Some believe virtual assistant technology can be that sort of platform, and the company with the most useful assistant will gain an advantage for their other services — like Internet search or online shopping. Lose that competition, however, and a company could be at the mercy of its rivals.
With those stakes in mind, tech giants have been scrambling to make their assistants omnipresent. Since smart speakers are the main way for people to deal with virtual assistants, Amazon and Google stoked holiday sales with heavy discounts, dropping the price of their entry-level models to $30, from $50. At the same time, tech companies have been putting their assistants inside products of all shapes and sizes.
Before this month's International CES tech conference in Las Vegas, Amazon announced a string of new Alexa partnerships. Hisense will put the assistant into its television sets, while Kohler said a new bathroom mirror will have built-in microphones so people can use Alexa to dim the lights and fill a bathtub using voice commands. PC makers like HP, Asus and Acer said they were integrating Alexa into their computers, while Panasonic, Garmin and other electronics makers will do the same for devices that go into cars.
Amazon also announced an agreement with Toyota to integrate Alexa into some Toyota and Lexus vehicles. Ditto for a new smoke alarm from First Alert. Google said LG Televisions, headphones from Sony and smart displays from Lenovo will tap into its Assistant.
For now, consumers' satisfaction with their smart speakers — and by extension, the onboard assistants — is helped in part by the fact they didn't pay a lot to get them into their homes.
Justin Hosseininejad, an engineering consultant from Medina, Ohio, said he bought his first Amazon Echo Dot for $50 last year and got a second one free a few months ago with another Internet-connected device, the Nest thermostat. He uses them to listen to news in the morning and play music throughout the day. He recognizes that he's not asking Alexa to do a lot, but considering how little he paid, he is fine with that.
"There's only certain things I use it for, but I'm happy with it," he said. "I'm not doing my taxes with it."
Paul Erickson, a senior analyst at the research firm IHS Markit, said the next step for these devices will be to become the hub of a connected home, controlling Internet-connected lights, thermostats and other basic home appliances.
"The more interesting functionality is yet to come," Erickson said. "Part of that will come as more integration happens this year and next year. This is the first year we're going to see real advances with the assistants because of competition in the marketplace."
Competitors of Google and Amazon are also spreading their assistants far and wide. Apple now has Siri running across its universe of devices, along with an upcoming smart speaker called HomePod. Samsung has its own assistant, Bixby, available in its phones and televisions, and Microsoft has Cortana as a feature built into its Windows software.
Amazon has turned its Echo family of products and the Alexa assistant that powers them into the unlikeliest of success stories — although it is hard to say exactly how successful because it shrouds its disclosures about devices sales in fuzzy language.
Amazon would say only that it sold "tens of millions" of Alexa devices during the recent holiday season, millions more than the same period last year. Analysts estimate that Echo accounts for more than 70 percent of sales in the smart speaker category, with Google a distant second.
Google was also coy about revealing exact sales of Google Home. In a statement on Jan. 5, Google announced it has sold one Google Home smart speaker every second since it started shipping a smaller version of voice-controlled device on Oct. 19. That works out to roughly 7 million units.
In the 20 months since it started making the Google Assistant available as part of its Allo messaging app, Google said its Assistant is now accessible on more than 400 million devices including washing machines, dryers, air-conditioners, refrigerators and dishwashers from LG, headphones from Bose and a range of speakers from 15 companies.
Google said the Assistant can now accomplish more than 1 million tasks, or "actions," such as asking for photos from Halloween or adding events to a calendar. It created a directory — searchable, of course — to highlight these capabilities, hoping to remind users that the Assistant can do more than set a timer.
There are signs that some consumers are starting to recognize the value of virtual assistants even if they aren't interested in smart speakers. Hosseininejad's friend Stephen Melik, also an engineer from Ohio, said he uses Siri on his Apple Watch and iPhone to control his lights and power switches. But the notion of a stand-alone smart speaker that remains in one place doesn't make sense to him.
"I've always viewed these smart speakers as a solution searching for a problem," he said. "But the voice assistants, potentially there are a lot of benefits to it."