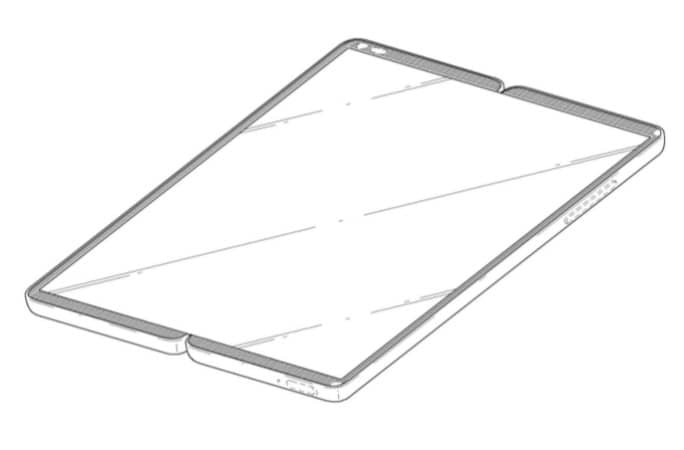 Displayed on the World Intellectual Property Organization (WIPO) website today, a new patent by LG Electronics, Inc. details design elements for a foldable mobile phone. Two similar designs are illustrated in the patent, but with distinct design choices. The first style of mobile phone features a vertical, foldable screen that fits in the chassis of a rectangular bezel-less display. This blueprint shows another display screen on the back of the phone which becomes the front, displaying relevant information. It's conceivable the full screen would function as a primary screen as well, with the full operating system being available to the user. While also bending vertically, the second device conception shows an entirely different, possibly transparent backing of the folded screen. In theory, this would enable only a portion of the inside screen to be visible and possibly usable when in the folded position. This second state might also merely have a smaller additional display on the rear, like other LG phones have used in the past.
LG has not been shy when it comes to new technology or ideas, regarding its smartphone lineup. The Seoul-based company has experimented with bent displays, additional displays, removal of a dedicated power button, and several other trials. In most cases, LG phones see drastic changes from their predecessors and that means with each generation, something is either new or missing from the previous one. In the case of folding screens, LG's patent allows for some flexibility as well as some expectation for consumers. An OLED screen sandwiched in the middle of two folding rear panels, which indubitably would house the battery, camera, motherboard, and other computing internals, could indeed be welcoming and exciting for LG. The folding OLED technology already exists in several forms, and LG is quickly becoming a household name for home television screens. Its newest rollable TV display highlights the lengths LG is willing to go to develop great hardware.
Competing with LG's future possible devices are two companies that are equally anxious to flaunt their own technologies. ZTE and Samsung Electronics each patented and are working to produce devices with a folding screen. ZTE's Axon M boasts two individual displays that fold together to make a slimmer, more pocketable smartphone. The device is already on the market and has piqued many people's interest, as it's the first of its kind for an Android flagship phone. Samsung has yet to release its own patented device, affectionately known as the "Galaxy X". The patent shows the smartphone folding vertically inside an exoskeleton backing, presumably to enable little resistance for the AMOLED screen inside. With the influx of tech companies focusing on folding large screens, the large devices consumers have come to love and know might still fit in their pockets in the future.