Gen Z's retirement savings have grown more than any other generational cohort over the past year, Fidelity Investment's latest retirement analysis reveals.
Gen Zers with 401(k)s saw their average account balances grow by 34% between the first quarter of 2022 and the first quarter of 2023 — a higher increase than millennials, Generation Xers and baby boomers, according to the financial services firm.
Fidelity defines Generation Zers as those born between 1997 and 2012. Gen Zers have the lowest average 401(k) balance of any generation, which is understandable given they haven't been in the workforce or made retirement contributions for very long.
It's also unsurprising that their accounts are growing faster: Since young people often have smaller balances, their contributions tend to make a bigger impact on their savings, percentage wise.
The average 401(k) balance for a Gen Zer is about $7,100, as indicated by Fidelity data provided to CNBC Make It — significantly higher than the cohort's median 401(k) balance of $2,500.
These numbers are drastically different because a handful of accounts with huge balances can pull up the average. Median account balance is considered a more accurate representation of what most people have actually saved for retirement.
This disparity isn't unique to Gen Z: Americans' average overall 401(k) balance is $108,200, compared to a median of around $23,700.
Here's how much Americans have saved in their 401(k)s by generation, according to Fidelity: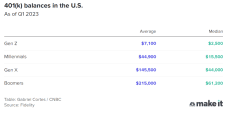 Looking at what you've saved now versus the total you'd like to have in retirement can be intimidating, so keep another number in mind: your savings rate. That's the percentage of your pretax income that you can put toward your retirement savings, Fidelity says.
The financial services firm recommends a savings rate of at least 15% — including both your and your employer's contributions, if available — if you want to maintain your desired lifestyle after retiring.
If you're not there yet, don't panic. Gen Zers' average savings rate is around 10.5%, a slight increase from last quarter, Fidelity reports. For millennials, defined as those born between 1981 and 1996, the average rate is around 12.9%.
You can start with what you can afford and slowly increase your contributions over time. Fidelity recommends upping your retirement contributions by 1% each year, and many 401(k) plans allow you to set that up as an automatic annual increase.
It may seem small now, but that steady increase can make a big difference in your total savings after 20 or 30 years.
"Saving for retirement may seem like a steep mountain to climb, but the climb doesn't have to be as steep as it looks," Ann Dowd, vice president at Fidelity, said in a March "Fidelity Viewpoints" article. "Small steps now can turn into big strides later."