A Rapidly Growing Supply Squeeze in Battery Metals is Super Charging Demand, and Prices, Highlighting a Grand Slam Opportunity for Infinity Stone Ventures Corp. (CSE:GEMS) (OTC:GEMSF)
It's impossible to ignore the ongoing electric revolution going on around us that's driving the demand for key battery minerals. But is there enough supply?
Now research analysts at S&P Global are warning that a 'brutal series of shocks has left markets ill-prepared for the challenges of the future', and that a Supercycle Could Be Around the Corner.[1]
Batteries are a complex business, and they require more than just lithium to store and provide power.
Benchmark Mineral Intelligence has highlighted that graphite is another important battery metal with a supply chain that's struggling to keep up, projecting big things in 2023 for the anode market.[2]
So, to many investors paying attention to the battery metals sector, it's the bottom of the 9th inning, the bases are loaded (each with a different critical metal on base) and now it's time for a slugger to hit a grand slam.
That slugger is Infinity Stone Ventures Corp. (CSE:GEMS) (OTC:GEMSF) who has strategically assembled a diversified portfolio of 100% interest in battery metal properties in the mining-friendly jurisdictions of Ontario and Quebec, involving such crucial metals as Lithium, Graphite, Copper, Cobalt, Nickel, and Manganese. They're built to be a one-stop-shop, single source supplier for the clean energy revolution, with the right team in place with expertise and success in clean tech, exploratory mining, and startups.
Major players like Rio Tinto are predicting that the lithium market alone is expected to see 25-35% growth in demand per year over the next decade, causing a significant supply deficit to open up and contributing to a lithium super cycle of high prices. [3]
According to Benchmark, before the lithium sector can get there, it'll need at least $42 billion in new investment to meet 2030 demand, if it's to move on from sourcing its metals from China.[4]
The electric revolution is already underway, causing EV sales, and the prices of lithium hydroxide and carbonate, as well as lithium spodumene prices to rise tenfold in just two years.[5]
This has sparked the majors like Rio Tinto into action, now hunting for lithium deals as demand and prices continue to soar,[6] in full pursuit of "organic and M&A growth opportunities".[7]
And many of those growth opportunities are being seen in North American jurisdictions, where both the Canadian and United States governments are set to incentivize domestic production to the tune of $2 billion[8] and $2.8 billion[9] respectively.
This has brought heightened focus especially in mining-friendly Canadian provinces such as Ontario or even Quebec which has attracted multiple approved and soon-to-be-constructed lithium mines. [10],[11]
It's a truly international battery metals frenzy, as the market witnesses M&A activity on the rise,[12] and S&P Global Commodity Insights reported that over the last year Lithium M&A typically involved assets with resources.[13]
And while many are drawn by the allure of the hyperactive lithium sector, the smartest investors are paying attention to the lesser-talked-about battery metals which are equally (if not more) important as Li—such as graphite!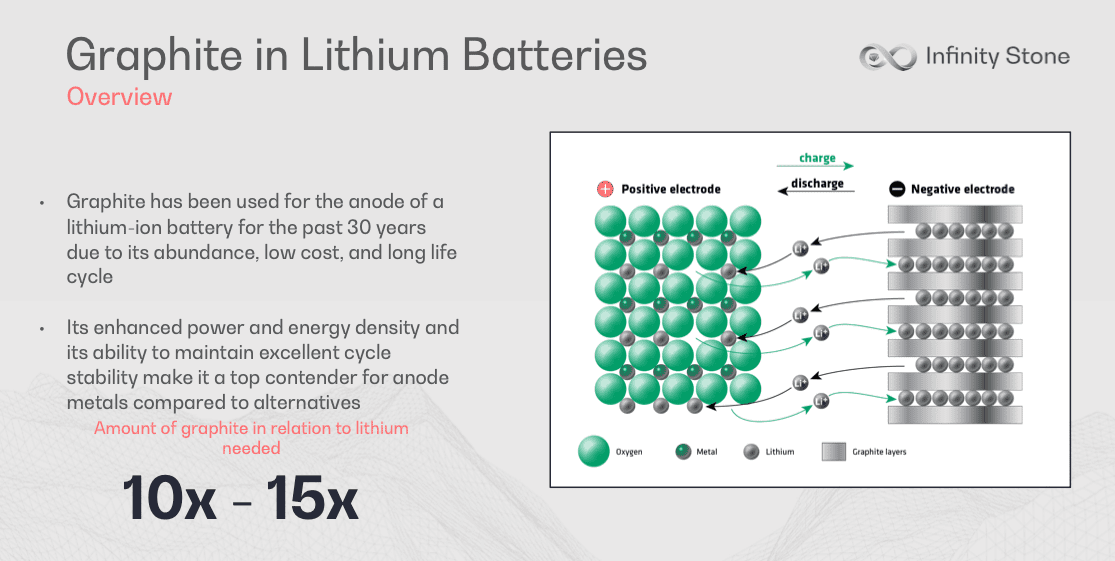 In order to bring you up to speed on Lithium and these other critical battery metals, there's no finer example of balanced and diversified battery metals portfolio than that of Infinity Stone Ventures Corp. (CSE:GEMS) (OTC:GEMSF) and its multiple 100%-owned critical mineral deposits and occurrences in stable mining-friendly jurisdictions, close to their final use destinations in North American manufacturing hubs.
Let's now take a deeper look into why Infinity Stone Ventures Corp. (CSE:GEMS) (OTC:GEMSF) is the big slugger in the on-deck circle readying to hit the grand slam.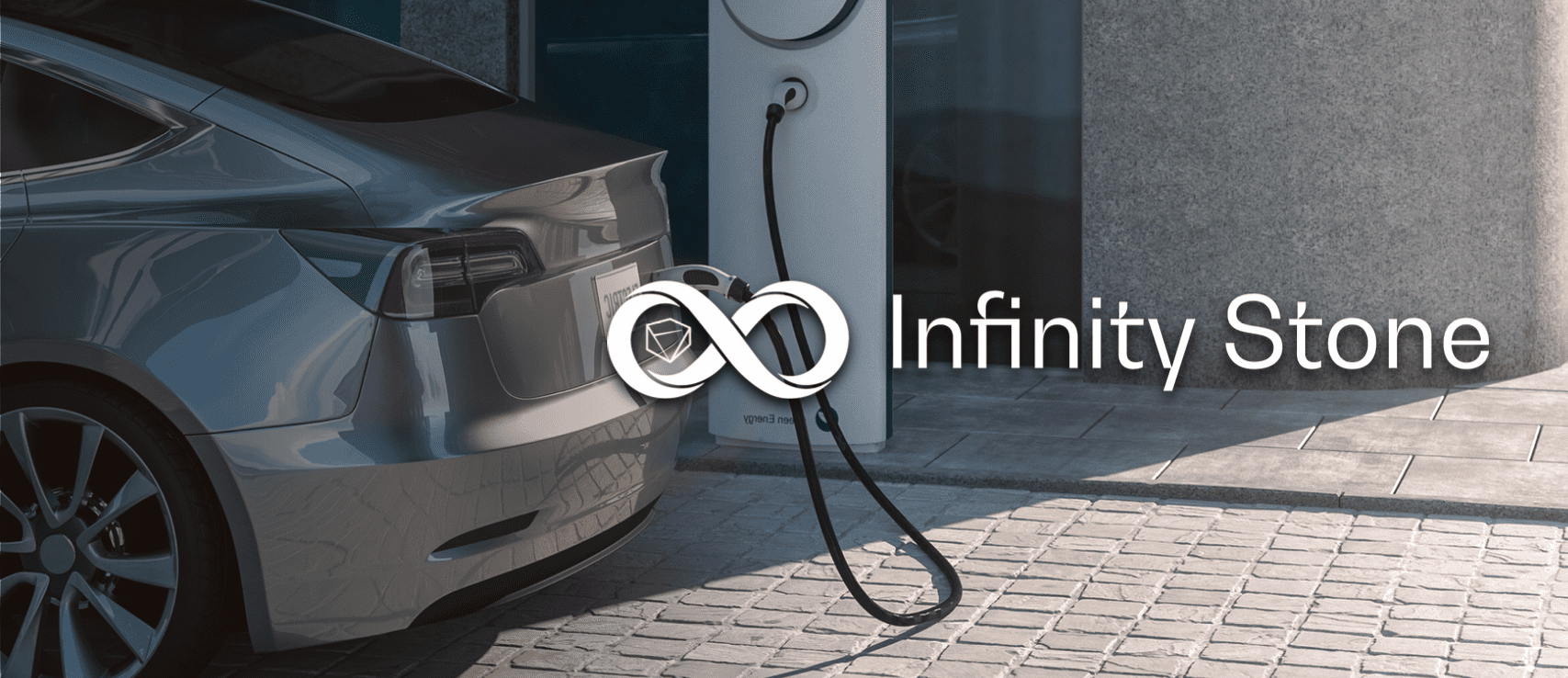 7 Reasons Investors Need to Pay Attention to Infinity Stone Ventures Corp. (CSE:GEMS) (OTC:GEMSF)
1   Lithium Going into Super Cycle Mode: Driven by a clean tech transition, we're going into a battery metals super cycle, according to several respected analysts including from J.P. Morgan[14], Goldman[15], VanEck[16] and Eurasion Resources Group[17]. We're being warned that the lithium market will remain in structural shortage until 2025[18], with more shocking acute lithium shortages forecast by 2035[19], meaning Infinity Stone Ventures' THREE lithium projects are strategically positioned and timed ahead of a 'Lithium Supercycle'.[20]
2   Perfect Battery Metals Jurisdictions: According to the Fraser Institute, Quebec is recognized as a Top 10 Global Mining Jurisdiction (and Ontario was ranked #12 in the world)[21]. Analysts have singled out Quebec as a strong viable lithium hub in the near future[22], and that the province could add significant value to industry by taking part in the lithium revolution[23]. In response, the province is taking its role in battery metals production very seriously[24], as is the Canadian government[25].
3  Directly Adjacent to Winners: With 28 highly prospective, pegmatite dikes located adjacent to Patriot Battery Metals's Corvette Lithium Discovery in James Bay, QC, Infinity Stone Ventures is sitting right beside a massive find, and is setting itself up with its own drilling campaign to cash in on what could be similar hard-rock lithium concentrations. When Patriot Battery Metals first announced their find, their shares went up nearly 20x, and over the last year they've ballooned in price by more than 28x.
4  Share Structure: With only 83 million shares outstanding, and with Infinity Stone team ownership accounting for 12.23% of shares, the company's financial structure is still in a good space for a mining company of this size with the assets that it holds.
5  Timing, Timing, Timing!: Because the majority of Infinity Stone's new exploratory drilling will take place in Q1 2023, we're being given a fantastic opportunity to take part in the process as the company moves towards proving its reserves, after which typically stock prices tend to move quickly. 
6  Experienced Stewardship: Leading the way for Infinity Stone Ventures is a team with a successful track record in clean tech, exploratory mining, startups, and the ever-important fundraising. Together, the company's Directors and Advisor have been involved in the raising of hundreds of millions of dollars.
7  De-Risked Through Multiple Deposits: Infinity Stone Ventures is potentially sitting on multiple large deposits of several valuable metals beyond lithium, including cobalt/nickel, manganese, copper and graphite, which may be the largest graphite deposit in the world. 
CLICK HERE TO SEE FLYOVER OF THE PROPERTY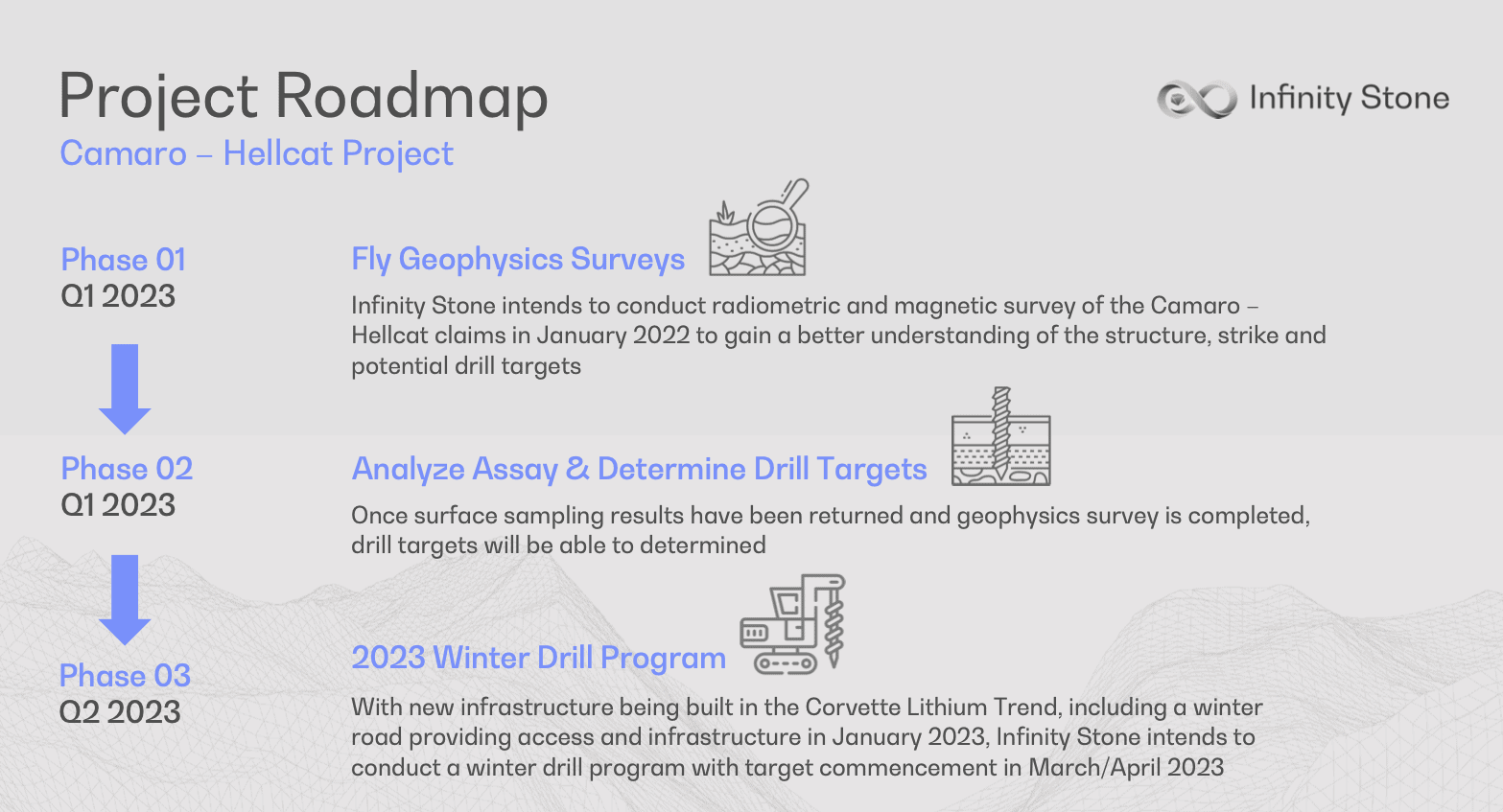 GREAT Real Estate Near BIG Finds
Infinity Stone Ventures Corp. (CSE:GEMS) (OTC:GEMSF) is the 100% owner and operator of the Camaro Lithium Project in the James Bay Region of Quebec, Canada.
The project covers 5,187 hectares and includes three property blocks: Taiga, Hellcat, and Camaro, and is situated adjacent to Patriot Battery Metals' (PMET:TSXV) successful lithium discovery, the Corvette Lithium Project.
With drilling at nearby sites showing lithium concentrations up to 4.6%, this location offers an exciting investment opportunity in the lithium industry.
Located in Quebec, Canada, where drilling costs are among the most affordable in the world (only $100/meter), the Camaro Lithium Project is also situated in an area that is receiving increased attention from Western governments as they seek to protect themselves from Chinese monopolies.
Yes, while Infinity Stone Ventures investors can keep up with their company's activities throughout the ongoing drilling campaign, the congruent drilling going on in Patriot Battery Metals' camp will also keep things interesting[26]—as last year's discoveries at Corvette brought huge attention to the region.
Tax incentives are already available for Canadian investors, and the pressure is growing to increase lithium mining throughout North America.
Infinity Stone Ventures' projects, including the Camaro Lithium Project, are in an area with a promising lithium market. In addition to their lithium projects, Infinity Stone Ventures also has a cobalt/nickel deposit and a graphite deposit that early indicators suggest may be the largest in the world, with high concentrations and a chemical bond structure perfect for conducting electricity in batteries.
Should Infinity Stone Ventures' lithium mines one day come online, they will be in good company among the only hard-rock lithium mines in America. With initial drilling just starting up and successful lithium ventures surrounding the Camaro Lithium Project, this is an opportunity for investors to consider the assets of Infinity Stone Ventures and benefit from the growing demand for lithium.
And it's not their only property!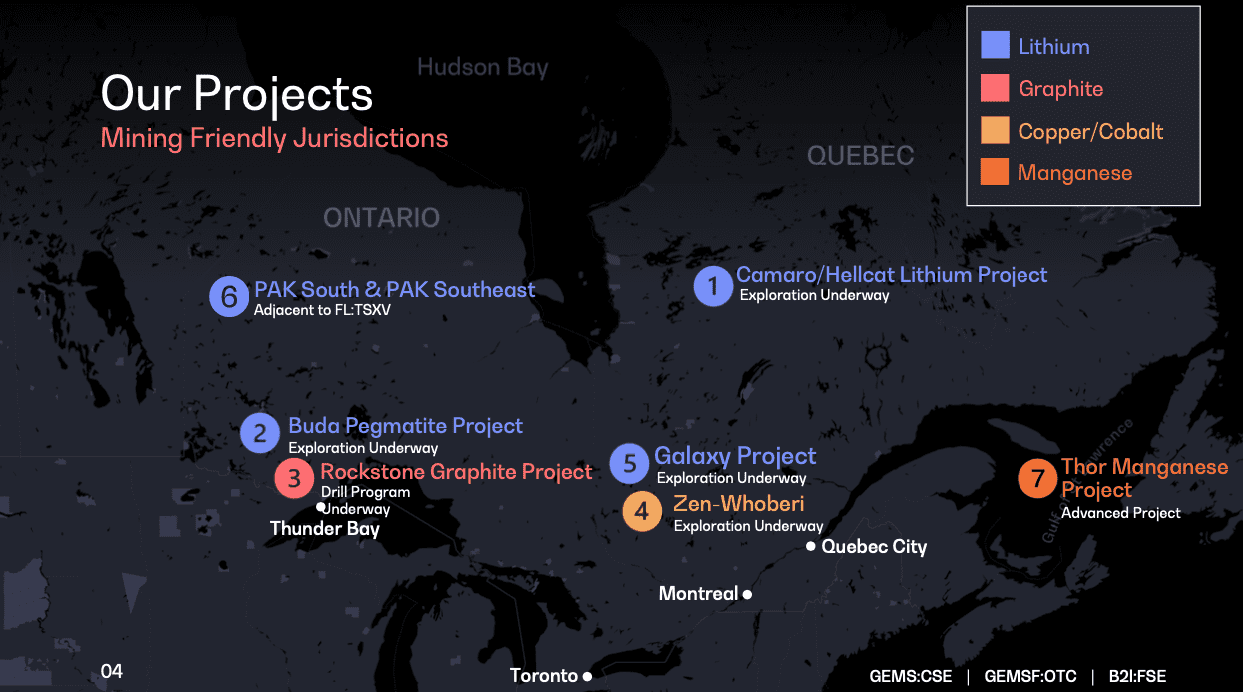 Taking into consideration Infinity Stone Ventures' optimally diversified projects that span across the battery metals space, it's only a matter of time before these projects get developed out and start drawing some potential M&A attention or providing the runway for successful spinout corps.
Now the market awaits the results of every action Infinity Stone Ventures takes to improve the value of each of its 100% interest properties.
Let's now take a look at the company that Infinity Stone Ventures is working towards competing with in its current jurisdictions.
Company

Symbol
Share Price

(USD)

Market Cap

(USD)

Battery Metal Resource

Infinity Stone Ventures
CSE:CMET
OTC:CLGCF
$0.16
$13.8M
N/A
Allkem Limited
TSX:AKE
OTC:OROCF
$9.29
$6.03B
James Bay: Mineral Resource of 40.3Mt at 1.4% Li2O and Ore Reserve of 37.2Mt at 1.3% Li2O[27]
Critical Elements Lithium Corporation
TSXV:CRE
OTC:CRECF
$1.92
$414.5M
Rose: 26.8Mt at 0.96% Li2O Eq
Frontier Lithium Inc.
TSXV:FL
OTC:LITOF
$1.90
$429.4M
PAK: 9.3 MT at 2.06% Li2O

SPARK: 14.4 MT at 1.4% Li2O Indicated and 18.1 MT at 1.37% Inferred[28]

Livent Corporation
NYSE:LTHM
$25.95
$4.67B
Whabouchi: 27.9Mt at 1.33% Li2O Proven & Probable[29]
(Livent owns 50%)
Osisko Mining
TSXV:OSK
OTC:OBNNF
$2.74
$957.5M
Windfall: 4.1M oz Au (M+I) and 3.3M oz Au (Inf)[30]
Patriot Metals
TSXV:PMET
OTCQB:PMETF
$10.77
$997M
N/A[31]
Piedmont Lithium Inc.
NASDAQ:PLL
$68.81
$1.24B
NAL: 101.9Mt at 1.06 Li2O[32]

(Piedmont owns 25%)

Sayona Mining Limited
OTC:SYAXF
$0.18
$1.58B
Moblan: 12.03Mt at 1.4% Li2O[33]

(Sayona owns 60%)

NAL: 101.9Mt at 1.06 Li2O[34]

(Sayona owns 75%)
*Share Prices and Market Cap Values in USD$ taken on 31 January 2023 from Yahoo! Finance

World Class Jurisdictions in Ontario and Quebec
Québec is leading the charge in the critical mineral exploration space with its ambitious plans for a green economy and its commitment to the development of critical and strategic minerals.
With its '2030 Plan for a Green Economy'[35] targeting a reduction in carbon emissions, and 'Plan for Development of Critical and Strategic Minerals (2020-2025)'[36] aimed at sharing financial risk and improving infrastructure in the northern part of the province, it's no wonder why Quebec has become a sought-after destination for investment.
As recognized by the Fraser Institute, Québec is a top-ranked global mining jurisdiction, [37] making it a top pick for international interests. The US military is among those considering funding mining projects in Canada, [38]  and Québec is at the forefront of these discussions.
This is a once-in-a-lifetime opportunity to be a part of the revolution in critical mineral exploration and investment. With Québec's commitment to sustainability and its top-ranked status as a global mining jurisdiction, the potential for growth and success is endless. Get in on the ground floor and invest in Québec's bright future today.
Ontario is no slouch either, with its rich mineral deposits, and being home to a wide range of minerals including gold, silver, nickel, copper, and platinum group metals.
The Ontario government also provides a supportive environment for mining companies, offering various incentives and programs to encourage investment and growth in the industry, including tax credits, investment capital, and streamlined regulations, making it easier for companies to get up and running in the province.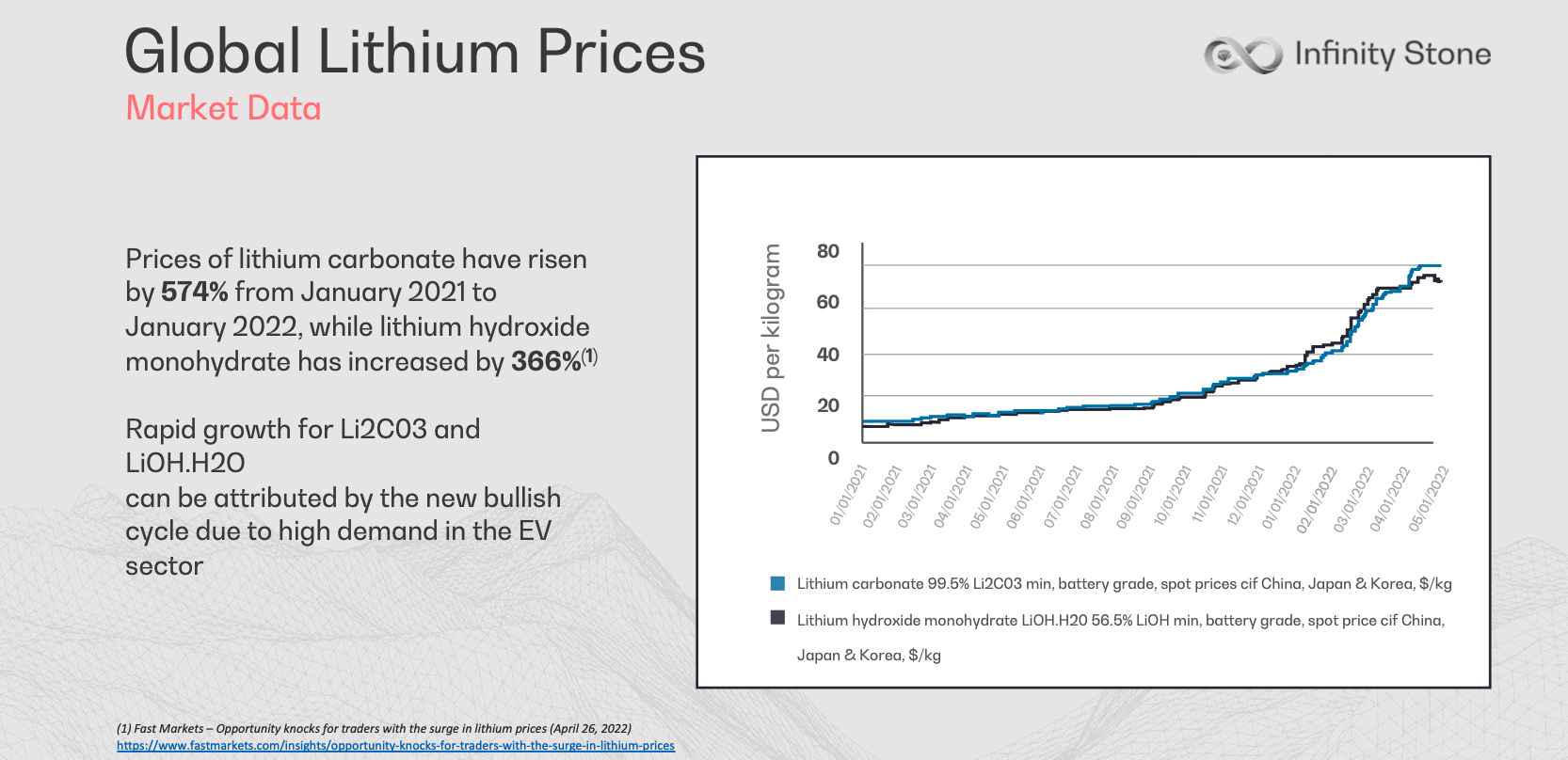 Share Structure with Strong Management Ownership
Only 83 million shares outstanding, and Infinity Stone team ownership account for 12.23% of shares.
Exceptionally Skilled Leadership Team
Leading the way for Infinity Stone Ventures Corp. (CSE:GEMS) (OTC:GEMSF) is a very capable team in Management, Directors and Advisors, with a successful track record in clean tech, exploratory mining, startups and corporate finance. The team includes:
Zayn Kalyan – CEO, Director: Kalyan is a visionary investment banker and seasoned business development executive. With a foundation rooted in the "ground-up" development of startup technology companies, Kalyan leverages his expertise as a former software engineer to drive growth in the finance sector. As CEO of Infinity Stone since 2017, he has been instrumental in shaping the company's direction, honing its focus on the lucrative battery metals space. His partnership with Altus Capital Partners has resulted in the successful origination of over $50 million in financing. His track record of leadership extends to multiple public companies where he has served in upper management and on boards since 2014. 
Michael Townshend – Executive Chairman, Director: With over 25 years of experience in corporate finance and 30 years in the capital markets, Townshend is a seasoned veteran in the industry. He is one of the visionary partners behind the success of Altus Capital Partners, a leading boutique investment bank based in Vancouver. Over the past five years, Altus has raised an impressive $180 million in equity financing under Michael's guidance. A consummate entrepreneur, Townshend co-founded several game-changing companies, including Hemptown, Patriot One Technologies, Body and Mind Inc., and Raytec Metals Corp. He has a proven track record as a CEO, having previously held top leadership positions at Lateegra Gold Corp and West Hawk Development Corp.
Case Lewis, P.Geo – Director: With over a decade of expertise in geology, Lewis brings a wealth of knowledge and experience to the table. As a Professional Geologist and Qualified Person, he has managed exploration projects across Canada and internationally, ranging from early stage to advanced. With a track record of success as a director, QP, and technical advisor for multiple junior resource exploration companies, Case has a proven ability to lead and drive results. Holding a degree in Geology from the University of Alberta, he brings a solid academic background to the table.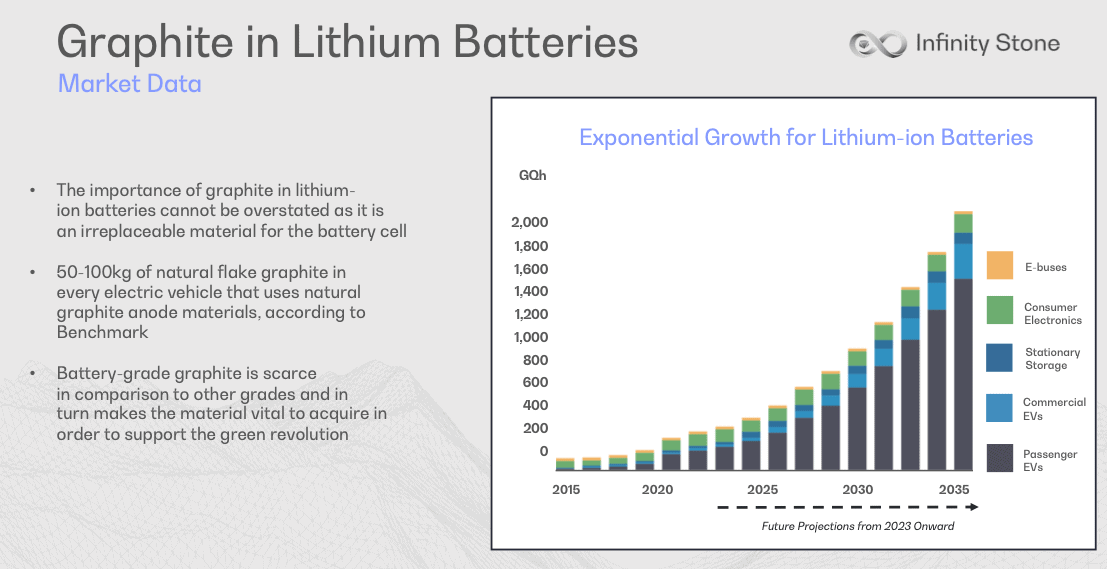 Bonus Battery Metal Assets – Diversified Portfolio
 Beyond securing a favourable position near Patriot Battery Metals in the Quebec lithium scene, Infinity Stone Ventures Corp. (CSE:GEMS) (OTC:GEMSF) has amassed an impressive portfolio of other battery metals projects, each of which would be significant on their own as potential future spinouts.
 These other battery metal assets include:
The Buda Pegmatite project in Ontario which hosts 7 LCT (Lithium-Cesium-Tantalum) pegmatites with elevated levels of lithium, niobium, rubidium, beryllium, cesium, and tantalum.
The Rockstone Graphite project, also located in Ontario, has yielded 25.0% graphite, 0.82% Zn & 0.15% Cu over 24.0 metres from 60.5 to 84.5m, with the potential to refine to battery grade.
The Zen-Whoberi Project in Quebec has had previous drilling that discovered 15.5% Cu, 0.57% Cu over 22.8 metres, 1.27% Cu along a 200-metre strike length, and 1.1g/t Au over 1.2 metres, as well as a cobalt zone 800 metres north of the known mineralization at the property, as nickel-cobalt anomalies will also be analyzed for platinum group metals (PGM).
The Galaxy Project (Lithium), large 9,423-hectare lithium project located in Quebec, which has identified at least 30 highly prospective pegmatite dikes with active exploration underway, and pending assays.
The PAK South & PAK Southeast Project (Lithium), located in Ontario's prolific Red Lake mining district, and adjacent to Frontier Lithium's (TSXV:FL) (OTC:LITOF) which has a mineral resource in measured, indicated and inferred categories of 9.3 MT averaging 2.06% Li2O with a deposit that hosts a rare technical/ceramic grade spodumene with low inherent iron.[39]
Thor Manganite Project (Manganese), located in Magdalen Islands, Quebec, the project is highly prospective for manganite with 10 historical diamond drill holes completed on it.
Shorty West Project (Lithium), located in Yellowknife, Northwest Territories, approximately 83m from the Hi (Shorty) pegmatite on Li-Ft Power Ltd.'s (CSE:LIFT) Yellowknife Lithium Project, where Hi (Shorty) Pegmatite has averaged 1.07% Li2O in channel sampling. 
RECAP: 7 Reasons to Seriously Look Into Infinity Stone Ventures Corp. (CSE:GEMS) (OTC:GEMSF) TODAY!
Lithium Super Cycle
Great Battery Metals Jurisdictions
Adjacent to Winners
Share Structure
Great Timing
Experienced Team
Multi-Commodity Assets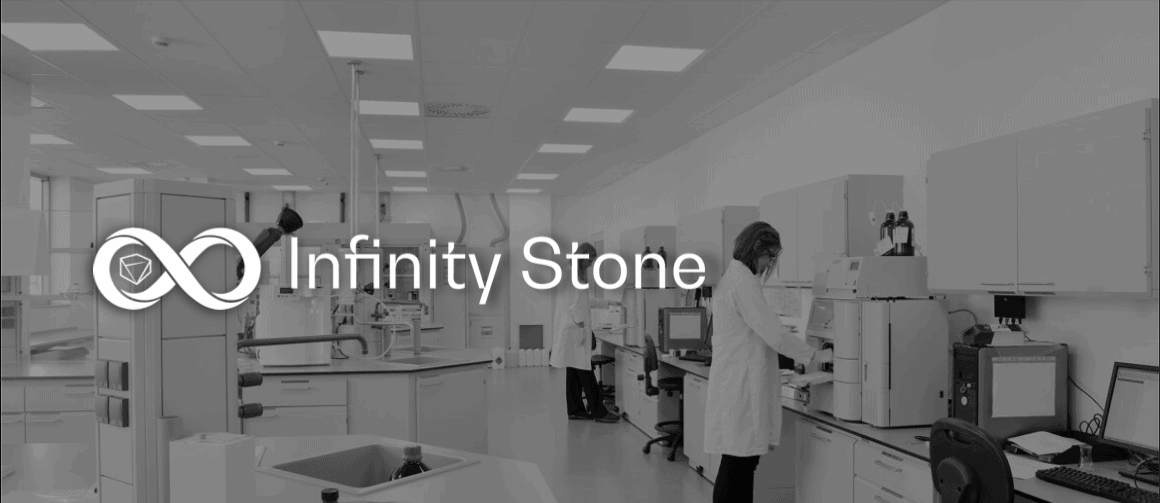 BEFORE YOU CLICK AWAY!
With an exciting Q1 2023 work program already underway, THIS IS THE PERFECT TIME for smart investors to take a more serious look at Infinity Stone Ventures Corp. (CSE:GEMS) (OTC:GEMSF)—because NOW is the best timing to secure an early-mover advantage!
There are plenty of updates to come on the horizon for Infinity Stone Ventures Corp. (CSE:GEMS) (OTC:GEMSF), each of which you're going to want to get a head start on.
So, do your due diligence, and don't forget to click here to subscribe for email updates and make sure you don't miss out on any of Infinity Stone Ventures' news and milestones.
---
SOURCES CITED:
[1] https://www.spglobal.com/en/research-insights/featured/special-editorial/look-forward/the-world-isn-t-in-a-commodity-supercycle-but-it-should-be
[2] https://source.benchmarkminerals.com/article/what-to-expect-for-graphite-in-2023
[3] https://www.ft.com/content/975b92c0-8f70-48c2-8e50-f615db68228d
[4] https://source.benchmarkminerals.com/article/analysis-lithium-industry-needs-42-billion-to-meet-2030-demand
[5] https://investorintel.com/critical-minerals-rare-earths/lithium-demand-is-poised-to-create-a-supercycle-of-supply-deficits-and-lasting-high-prices/#:~:text=If%20we%20add%20in%20other,t%20LCE%20in%20a%20year.
[6] https://www.bloomberg.com/news/articles/2022-12-13/rio-tinto-looking-for-lithium-deals-as-demand-and-prices-soar
[7] https://news.bloomberglaw.com/mergers-and-acquisitions/rio-tinto-looking-for-lithium-deals-as-demand-and-prices-soar
[8] https://www.reuters.com/business/exclusive-canada-spend-c2-bln-mineral-strategy-ev-battery-supply-chain-2022-04-04/
[9] https://www.energy.gov/articles/biden-harris-administration-awards-28-billion-supercharge-us-manufacturing-batteries
[10] https://www.nytimes.com/2022/09/20/business/electric-vehicles-lithium-quebec.html
[11] https://iaac-aeic.gc.ca/050/evaluations/proj/80141/contributions/id/58558
[12] https://www.sharecafe.com.au/2022/12/13/ma-activity-on-the-rise-as-markets-bounce-the-eu-looks-to-chile-to-secure-battery-minerals/
[13] https://www.spglobal.com/marketintelligence/en/news-insights/research/lithium-ma-involving-assets-with-resources-h221-to-h122
[14] https://am.jpmorgan.com/lu/en/asset-management/per/insights/market-insights/market-updates/on-the-minds-of-investors/clean-energy-investment/
[15] https://www.bloomberg.com/news/articles/2022-12-15/goldman-commodity-supercycle
[16] https://www.vaneck.com/us/en/blogs/natural-resources/theres-no-stopping-the-energy-super-cycle/
[17] https://www.reuters.com/markets/europe/commodities-perfect-storm-says-erg-crisis-starts-super-cycle-2022-05-25/
[18] https://stockhead.com.au/resources/high-voltage-four-reasons-the-lithium-market-will-remain-in-structural-shortage-until-2025/
[19] https://www.edie.net/acute-lithium-shortages-forecast-by-2035-as-battery-supply-chains-expand/
[20] https://investorintel.com/critical-minerals-rare-earths/lithium-demand-is-poised-to-create-a-supercycle-of-supply-deficits-and-lasting-high-prices/
[21] https://www.fraserinstitute.org/studies/annual-survey-of-mining-companies-2021
[22] https://www.sciencedirect.com/science/article/pii/S0301420721003809
[23] https://www.sciencedirect.com/science/article/pii/S2214790X21001556
[24] https://www.investquebec.com/Documents/qc/publications/TheQu%C3%A9becBatteryInitiative.pdf
[25] https://www.canada.ca/en/campaign/critical-minerals-in-canada/canadian-critical-minerals-strategy.html
[26] https://patriotbatterymetals.com/patriot-commences-quebecs-largest-2023-lithium-focused-drill-campaign-at-the-corvette-property/
[27] https://www.allkem.co/projects/james-bay
[28] https://www.frontierlithium.com/resource-assets
[29] https://patriotbatterymetals.com/portfolio/corvette/
[30] https://www.osiskomining.com/projects/windfall/
[31] https://patriotbatterymetals.com/portfolio/corvette/
[32] https://sayonamining.com.au/projects/nal-project/
[33] https://sayonamining.com.au/projects/moblan-project/
[34] https://sayonamining.com.au/projects/nal-project/
[35] https://www.quebec.ca/en/government/policies-orientations/plan-green-economy/about-the-plan#:~:text=The%202030%20Plan%20for%20a,climate%20change%20and%20more%20prosperous.
[36] https://cdn-contenu.quebec.ca/cdn-contenu/ressources-naturelles/Documents/PL_critical_strategic_minerals.pdf?1604003187#:~:text=The%20Qu%C3%A9bec%20Plan%20for%20the,transition%2C%20both%20nationally%20and%20internationally.
[37] https://www.fraserinstitute.org/studies/annual-survey-of-mining-companies-2021
[38] https://www.cbc.ca/news/world/u-s-military-mining-projects-canada-1.6649522