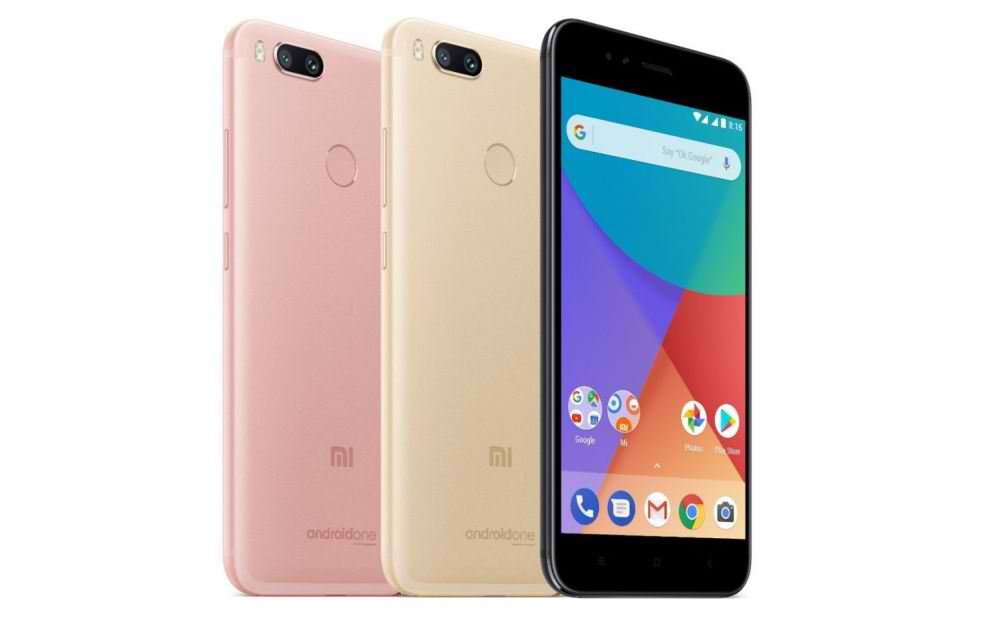 Xiaomi is the $100-billion tech giant that doesn't even sell their phones in western countries.
If you are willing to go through the import process though, you can end up with a phone that is cheaper than companies such as Samsung, LG and Sony, while also offering the same level of build and software support (unlike cheaper fledgeling companies).
The Xiaomi Mi A1 is the latest phone making waves in the Android world, depending on your choice of off-shore company, you can pick the Mi A1 up from £150-£169.99, putting it in the lower middle range of pricing for phones.
What differentiates this from Xiaomi phones of the past is that it is co-developed by Google—as part of its Android One initiative. This means that unlike their other phones that run the Android overlay MIUI, this is a pure android stock experience.
Being part of the Android One program this phone guarantees regular security updates and a promise to update to Android Oreo 8.1 in early 2018. This a particular feature that is missing from other cheap imports.
The full specification of the phone includes:
Full Metal Build, Dual Pyrolytic Graphite Sheet
Android Nougat 7.x, Upgradable to Android Oreo before end of 2017
5″ 1080p IPS LCD, Gorilla Glass 3
Snapdragon 625
4GB RAM
64GB Storage (ROM)
Dual SIM (or 1 Sim & 1 MicroSD)
Unlimited High-Quality Storage on Google Photos
12MP+12MP Dual Camera, Wide Angle+Telephoto Lens
5MP Front Camera, Beauty Mode 3.0
10V Smart Power Amplifier, DHS Audio
USB Type-C Port
3080mAh Battery
5mm jack
On the face of things, the specification doesn't look quite as impressive as some of the Chinese phones we have listed. There is no bezel-less design here, and the 12MP camera appears lower specced than others. In reality, though, the components inside are better. For example, the Snapdragon 625 chipset is the same that is found on the £400 Blackberry KEYOne, and the Meditek processors that are used in most of our budget phone roundup are only comparable to the lower specced Snapdragon 425.
For me, the main problem with the specification is the lack of NFC and Quick Charge. I have come to rely on using my phone for payments.
The design of the phone is distinctively familiar to most phone in recent years (that still include bezels), it looks nice, but there is nothing overly distinctive about it. The chassis is all metal which gives it both a premium look and feel, far more so than its price would suggest.
On the front of the phone, you have three capacitive keys while on the rear is the fingerprint sensor.
The Mi A1 packs a 5.5-inch LCD which is a nice size, sitting in the middle ground of sizing options now available with phones. The large bezels at the top and bottom do mean this is about the same size as 6-inch bezel-free options such as the Xiaomi Mi Mix 2
BATTERY
The battery is an averagely sized 3,080mAh, which is a little disappointing, as I would have liked to see something like 4,100mAh as found on the Redmi Note 4. Due to the 625 chipset and pure Android experience you do get a decent amount of usage out of this phone though. I could easily get a full days usage out of the phone, but it did require charging nightly.
PERFORMANCE
The processor inside the phone maybe mid-range, but with not bloated skins getting in the way this phone handles daily tasks with aplomb. I found the similarly specced Blackberry to lag on occasion, but to date, I have not encountered this issue with the Xiaomi.
Apps load quickly, and I was able to switch between things without issues. Multitasking is a breeze for basic things like WhatsApp, Facebook, YouTube, Gmail, Apple Music, browsing the web and Instagram.
Even for gaming, the phone managed to handle things well. I tried out Asphalt 8, Dead Trigger 2 and Nova 3, all three played smoothly without any noticeable frame rate drops. If this had a larger resolution display, it might not have performed quite as well.
CAMERA
Xiaomi has taken the dual 12MP camera setup from its Mi 6 flagship and bolted it onto the Mi A1. The Mi A1 cuts the costs a little bit with an inferior f/2.2 aperture on its main lens.
It offers a 2x optical zoom via the secondary 12MP telephoto lens, just like the iPhone X and the OnePlus 5.
In this price bracket, I don't think you will find a better camera; the overall performance is excellent.
OVERALL
In this price bracket, this is probably about as good as it gets. The build quality and performance are fantastic. Apart from the lack of NFC, there is nothing significant to fault with this phone. You can get nicer looking phones from the likes of Vernee and Oukitel but the MediaTek processors they use don't perform quite as well, they won't get updates and the cameras can be a bit iffy. The main other competitor here would be the Moto G5S Plus, which is about 10% more expensive, has less RAM, doesn't look as nice, but it does have NFC.
It is just a shame this is not readily available in the UK direct from Amazon the like.
You can buy the Xiaomi Mi A1 is available from GearBest at the moment from £158.06