---
Imagine an advertising platform where audiences are not only exposed to your brand, but one where they want to interact with your product and/or offers for long periods of time. It's already here and it's going to change things dramatically.
---
One word of caution: The information you are about to read on the company below is not yet known by Wall Street, which makes this a truly unique situation. A situation you need to take full advantage of before Wall Street gets involved, which they will, and at which point you won't see these cheap prices ever again!
With over $333.25 billion to be spent on global online ads this year and projected to hit $517.51 billion by 2023[1], it seems obvious that dozens of companies are clamoring to innovate ad technology.
Against this backdrop, we've identified one platform whose ads are crushing all other forms of digital ads that could potentially disrupt even the majors like Facebook, Google, and Twitter. The platform is online gaming and the rising company taking in-game advertising to the next level to deliver unmatched returns for their clients is Versus Systems Inc. (CSE:VS) (OTC:VRSSF).
What Versus Systems has done is to crack the code to make gamers choose to interact directly with a brand for almost 15 minutes per campaign—These levels of engagement are completely unheard of in mainstream advertising. We are talking transaction rates 3,500% above the industry average.
Subscribe to receive our free
Market Review Weekly
Most consumers and audiences have grown wise to skipping ads on YouTube videos, blocking ads with ad-blockers on Google, or just outright missing and ignoring ads on Facebook and Twitter. But Versus Systems Inc. has found a way to captivate attention, turning advertising into a playable, enjoyable event with provable results.
The flagship WINFINITE gaming platform from Versus Systems Inc. (CSE:VS) (OTC:VRSSF) continues to shatter expectations, by innovating a way to captivate and capitalize upon players' attention. In terms of impressions, each player on WINFINIITE'S platform spends multiple minutes interacting with a brand's logo/prizes embedded within the game.
Ad engagement on the major social media is relatively low [2], like Facebook's average engagement rate at less than 0.09%, Twitter even worse at 0.048%, and Instagram only slightly better than both at 1.60%[3].
In contrast, players on Winfinite are exposed to a brand's logo throughout their playing experience. To make the experience even more positive, they're playing for a real prize associated with the brand (free items, gift cards etc.). So, Winfinite players interact directly with the brand/prize for an average of 14.8 minutes per session – a radical shift for advertisers.
Players have also shown their excitement to take part in the interaction after playing, by delivering Versus with email open rates of 54%—more than 300% the industry average [4].
Much more engaging than just being served ads, players and fans are given a choice of real prizes—all while delivering an easy way to discover affiliated products and other, similar games and experiences.
Anybody who makes a small investment in Versus Systems Inc. (CSE:VS) (OTC:VRSSF) at these levels stands to make a fortune considering where this platform is headed, and the partner agreements they have already signed such as HP (Imagine who will be coming on board shortly)
Impressive List of Early Adopters
Content developers for the WINIFINITE platform are looking to benefit from Versus Systems through exposure to an established audience of gamers/viewers, as well as increased advertising revenue for themselves. Already, Versus Systems Inc. (CSE:VS) (OTC:VRSSF) is gaining serious momentum with major industry participants.
It has signed an agreement to license Versus' WINFINITE technology for use in HP products and services. The agreement provides for the non-exclusive use of Versus' technology and prizing software by HP and for access to the WINFINITE platform.
Subscribe to receive our free
Market Review Weekly
The company has also signed on Animoca Brands, which will potentially utilize Winfinite for advertising via their established partnerships with iClick, Talenthouse, and Silveregg. Animoca Brands will also explore the potential to implement rewards programs utilizing non-fungible tokens into its existing portfolio of mobile games.
And to add to the early adopters, Versus has joined with established developer, Ludare Games Group to integrate its patented WINFINITE platform into upcoming games, including a location-based augmented reality mobile game.
Ready to Storm the Massive US Market
The online gaming industry is growing at an extremely impressive rate. The video games market could be a $300 billion industry by 2025.[5] And while this growth is global, the growth in the US has been perhaps the most astounding. It's been projected that the US will overtake China as the world's No. 1 gaming market in 2019[6], leading to a new wave of games from China coming overseas to compete[7].
---
The Rapid Growth Gaming Industry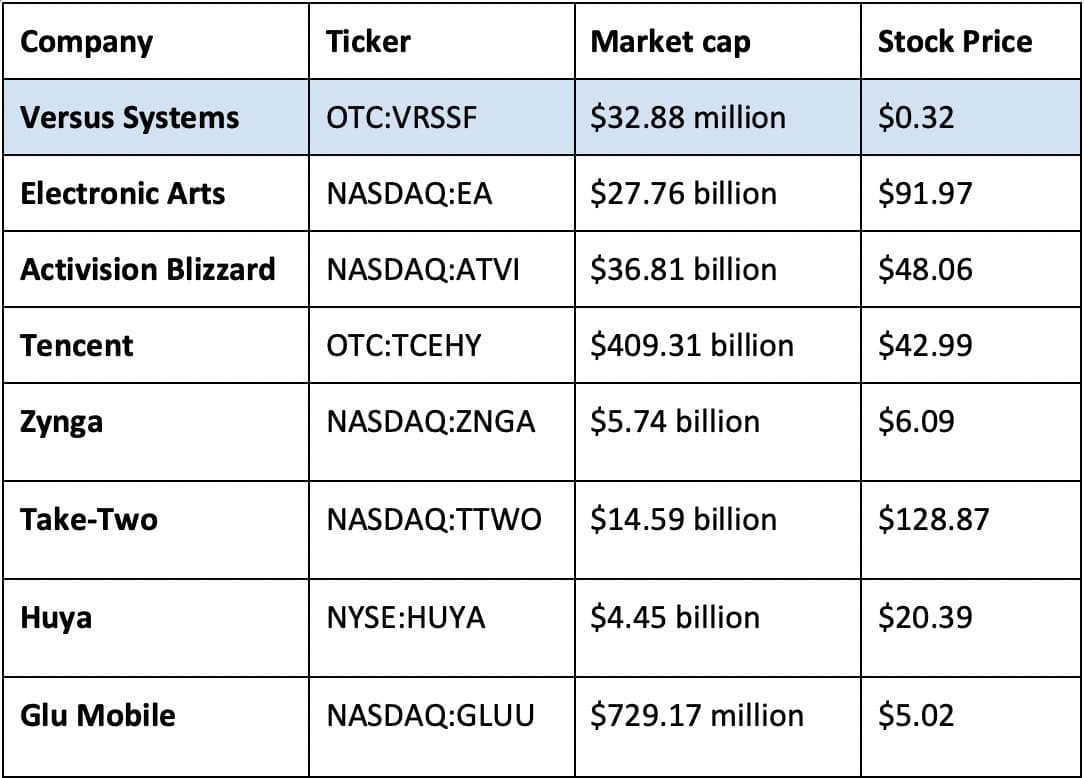 Versus Systems Inc. (CSE:VS) (OTC:VRSSF) has already filed over 40 United States Patent and Trade Office (USPTO) and Patent Cooperation Treaty (PCT) claims around player identification, dynamic regulatory compliance, and conditional prizing in games, TV, and streaming media.
Through its WINFINITE platform, Versus Systems Inc. has designed a method to best capitalize on this growing wave of gaming enthusiasts—It just makes gaming more fun.
---
10 Reasons that Versus Systems Inc. (CSE:VS) (OTC:VRSSF) deserves investor attention right now:
Versus Systems is a leading developer with a proprietary gaming/content prize platform
Generating ~15-minute interactions with gamers/viewers for clients
Transaction rates that are 35x industry average
Email open rates of 54%—more than 300% of the industry average
US$0.50 Cost-Per-Session is lower than Facebook's average Cost-Per-Click (CPC)
Regulatory compliance across multiple jurisdictions
Gaming industry growing at a rate that could be $300 billion by 2025
Delivers high engagement and KYC data for clients and developer partners
Filed over 40 USPTO and PCT claims for proprietary platform Winfinite
Signed licensing of WINFINITE platform with significant industry leaders, including HP
---
For more on Versus Systems Inc. and the company's most recent news, see the company's website at https://www.versussystems.com
Editorial Staff
USA News Group
---
Sources:
[1] https://www.emarketer.com/content/global-digital-ad-spending-2019
[2] https://www.socialmediatoday.com/news/new-report-looks-at-social-platform-performance-benchmarks-by-industry/548946/
[3] https://www.rivaliq.com/blog/2019-social-media-benchmark-report/
[4] https://www.campaignmonitor.com/resources/guides/email-marketing-benchmarks/
[5] https://variety.com/2019/gaming/news/video-games-300-billion-industry-2025-report-1203202672/
[6] https://venturebeat.com/2019/06/18/newzoo-u-s-will-overtake-china-as-no-1-gaming-market-in-2019/
[7] https://venturebeat.com/2019/08/04/asias-mobile-games-make-themselves-at-home-in-the-u-s/
---
Nothing in this publication should be considered as personalized financial advice. We are not licensed under securities laws to address your particular financial situation. No communication by our employees to you should be deemed as personalized financial advice. Please consult a licensed financial advisor before making any investment decision. This is a paid advertisement and is neither an offer nor recommendation to buy or sell any security. We hold no investment licenses and are thus neither licensed nor qualified to provide investment advice. The content in this report or email is not provided to any individual with a view toward their individual circumstances. USA News Group is a wholly-owned subsidiary of Market IQ Media Group, Inc. ("MIQ"). MIQ has been paid a fee for Versus Systems, Inc. advertising and digital media from the company directly. There may be 3rd parties who may have shares of Versus Systems, Inc., and may liquidate their shares which could have a negative effect on the price of the stock. This compensation constitutes a conflict of interest as to our ability to remain objective in our communication regarding the profiled company. Because of this conflict, individuals are strongly encouraged to not use this publication as the basis for any investment decision. The owner/operator of MIQ own shares of Versus Systems, Inc. which were purchased as a part of a private placement. MIQ will not buy or sell shares of Versus Systems, Inc. for a minimum of 72 hours August 26, 2019, but reserve the right to buy and sell, and will buy and sell shares of Versus Systems, Inc. at any time thereafter without any further notice. We also expect further compensation as an ongoing digital media effort to increase visibility for the company, no further notice will be given, but let this disclaimer serve as notice that all material disseminated by MIQ has been approved by the above mentioned company; this is a paid advertisement, and we own shares of the mentioned company that we will sell, and we also reserve the right to buy shares of the company in the open market, or through further private placements.
While all information is believed to be reliable, it is not guaranteed by us to be accurate. Individuals should assume that all information contained in our newsletter is not trustworthy unless verified by their own independent research. Also, because events and circumstances frequently do not occur as expected, there will likely be differences between the any predictions and actual results. Always consult a licensed investment professional before making any investment decision. Be extremely careful, investing in securities carries a high degree of risk; you may likely lose some or all of the investment.