Capitalizing on Existing Assets and Tech Innovation Is Bringing New Life To Oil & Gas
Oil prices are on the rise, supply is keeping pace with demand, and at the same time, oil companies are using technology to increase their profits on every barrel. We looked at the oil & gas space to find there some real opportunities emerging, despite oil's current state.

---
Our due diligence indicates that Oracle Energy Corp. (OTC: OECCF / TSX.V: OEC), a junior resource company aggressively advancing its oil and gas interests in West Texas, is ready to capitalize on market conditions now to set itself up for healthy margins.
Thanks to the surge in EVs (electric vehicles) and new fuels, critics are quick to dismiss the value of oil and gas, and though a number of countries have already announced plans to phase out petroleum and diesel vehicles by 2040 [1], that doesn't mean that the majority of personal vehicles will have made the switch – not even close.
That puts the ball right back in the court of good old oil and gas production.
Equally important, the majority of planes and jets of all types won't be making the switch in the foreseeable future. However, they will be far more efficient about how much fuel they do use. [2]
Other uses for the products of the oil and gas industry are not predicted to see much of a change. Still, even with the demand for those products mostly unchanged, transportation makes up no less than 70% of US demand for oil and has similar numbers in most other leading nations. [3] [4]
So, even if the drop in demand year-over-year is small, over time it will make an increasingly large difference. What will matter, then, is not how much an oil and gas company can produce, but how efficiently they can produce it and for how long.
Efficiency Will Determine Future Oil Prices and Profits
Increased efficiency in the transportation industry has already caused the single greatest drop in oil demand. U.S. energy requirements for transportation drop at a rate each year at around 1% of total BTU produced the previous year. In addition, "renewable" sources of energy are taking over petroleum's share at around 1.5% of all BTUs produced per year. These sources include some electricity, but are primarily biomass and natural gas. [5]
For anyone in the oil industry, this trend, having been true for over ten years, may seem alarming. However, oil still maintains a market share of over 85% and even if this trend continues, it is likely that at one point or another, automakers will hit a plateau for efficiency, though EPS data suggests this isn't going to happen anytime soon [6].
---
One of the only things an oil company, be it large or small, can do to increase the longevity and viability of its business is to increase efficiency at every level. In this area, smaller companies have a real advantage. It's much easier to build technology into a smaller operation and make adjustments with greater speed while a company and its culture is still flexible.
---
In a quick scan of the energy horizon, we located a Oracle Energy (OTC: OECCF / TSX.V: OEC)– a junior energy company that models this concept perfectly. They pride themselves on making the most of proven assets. This includes taking an existing oil well or proven production source and solving existing problems or efficiency issues, rather than drilling from scratch. This strategy can greatly reduce costs, as well as speed the time to production.
Oracle Energy Corp. Is Moving Fast
Oracle Energy Corp. – (OTC: OECCF / TSX.V: OEC) is a fast mover. They know where they stand, they know where their next best opportunity is, and they aren't shy about going after it. Many times this means changes from an international focus to one a bit closer to home. In this case, the Canadian-based OEC has locked onto an opportunity in Southern Texas: the prolific Eagle Ford Shale Formation.
Worldwide Interests Now Focused on Texas
Though showing a primary interest in Africa through the end of 2017, in recent months OEC have announced a focus on a very specific project located in North America. At the same time, they stated that they would not be pursuing both projects fully, instead shifting time and resources to the Eagle Ford project and away from their current interests in Africa.
Making the Most of Existing Opportunities
Oracle Energy isn't looking to break new ground. Their focus is instead now fixed on proven assets. So the question for a junior like OEC is what's out there that they can develop further, improve, and leverage in order to build their company quickly to a solid profit stage in the oil & gas patch? One well thought out answer to that question is the Eagle Ford Shale Formation Project.[9]
 In early June 2018, the OEC acquired 2490 acres of oil and gas leases from a private entity in Texas. The property contains 6 producing wells and 7 shut-in wells. There is also the potential for well workovers to dramatically increase production. At the same time, they either signed or put into motion a number of agreements giving them access to or mineral rights to adjoining properties. Some details of the latter agreements are still unannounced. [10]
This move is a potentially valuable one for OEC. The Eagle Ford (EFS) is one of the most active shale plays in the world. The EFS is located in South Texas and stretches for several hundred miles across the state. At any point in 2018, the formation could have between 87 and 100 rigs running in the region. All tolled, the region is comprised of 30 Texas counties and extends into Mexico. [11]
How Technological Innovation Leads to Greater Profits for Every Barrel
The oil industry is large and valuable, even after the recent period of low prices. So the energy industry as a whole is unlikely to spend on innovation when things are going well. Following the downturn of post 2008, they had to learn to innovate rapidly, tried to shore up their business using conventional approaches, or managed to wait it out.
In any case, the businesses that are now innovating are the ones that are likely to have a brighter future. With automation technologies, like drones, oil and gas companies can increase safety and collect data in an hour that may have taken days or weeks for a trained professional to gather data. In the same way, artificial and virtual intelligence are being used to find any and all inconsistencies and noting trends, solving problems before they can happen or before they would register to any human parsing that data.[12]
With these innovations in mind, it should be clear to see that right behind access to quality real estate assets, technology innovation is the key to maintaining long-term profits and viability as an oil and gas producer.
---
FEATURE COMPANY: FOR COMPARISON
Oracle Energy Corp.
OTC: OECCF / TSX.V: OEC
Market Cap: $16.66M
OEC is, for now, a junior oil company taking a nontraditional approach and leveraging all of its advantages to seek new, quick to produce assets. Their board and leadership team know technology in this industry and how it can be used to take existing assets and reach their optimal potential. They are also in a great position to begin production quickly during a period where oil prices are climbing. This will help them weather any future dips, while maximizing current opportunities.
---
Oil & Gas Leaders: Oil Patch Performers Worthwhile to Study
In addition to OEC, a number of oil companies are adopting modern methods for increasing their production efficiency. These companies are leading the oil and gas industry that see the benefits of reducing costs and creating a lean infrastructure, although not all industries leaders may have reached this new thinking soon enough to evolve for the new market realities.
Apache Corporation
(NYSE: APA)
Market Cap: $16.88B
Apache is an old, large company. They operate on a number of continents and have done well politically and in regard to making strides to minimize their environmental impact. As laudable as these things are, they have not done much for the company's overall bottom line historically. However, in late 2017 the company joined the Environmental Partnership, as one of 25 to do so. The group aims to jointly create and introduce new technologies and best practices to reduce emissions, as well as improve management efforts of natural gas.
Hess Corp. (NYSE: HES)
Market Cap: $19.14B
Headquartered in New York City, the Hess Corporation is an exploration and production company. In the last 5 years, the company has re-dedicated itself to exploration and production of a primarily domestic nature, having sold many of its international properties, as well as its refineries and gas station network.
Alta Mesa Resources
(NASDAQ: AMR)
Market Cap: $1.2B
A brand new company, possibly the most comparable, Alta Mesa is focused on developing and acquiring "unconventional" oil and gas sources. They pride themselves on being as environmentally friendly as currently possible and innovating in this arena, as well as acquiring some of the most of overlooked and underdeveloped properties.
---
Why Small Oil and Gas Companies are Winning at Innovation
Even after the recent severe dip in oil prices extending well into 2016, some oil companies are still complacent. They will use new, higher oil prices to expand rather than as a buffer to change their inherent structure and reduce their inefficiencies. Small companies, like Oracle Energy, are making the most of this period.
With higher prices, they have the opportunity to take that money and set up technology and infrastructure that will give them a sharp competitive advantage. With this, any future endeavors will be more likely to succeed, their infrastructure investments will last longer, and their profits will be higher even in the future when oil prices inevitably begin to decline. These will be the winners of the next phase in oil and gas.
Our Take: Oracle Energy Corp. Can Make Proven Opportunities Pay
Few other oil and gas companies look at things the same way as Oracle Energy Corp. This is a company with a history, albeit a short one, of using technology in a smart way to keep costs low and maintain a high standard of efficiency.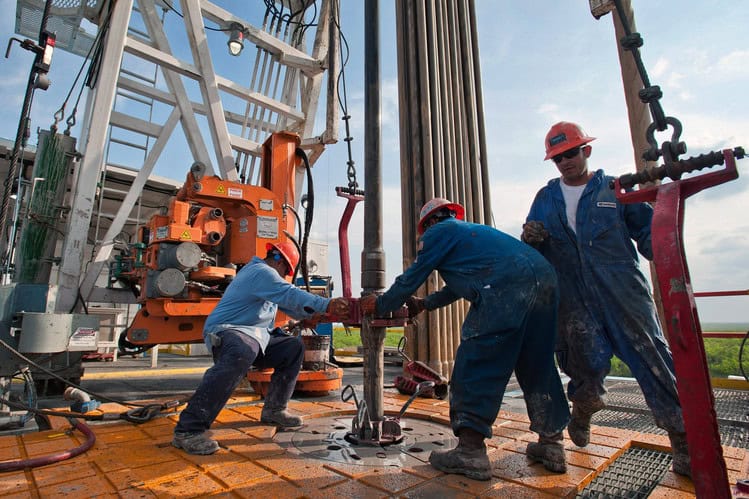 Oracle Energy Corp. is putting technological advances to use on its newly acquired leases in the Eagle Ford Shale. The opportunity is great for companies who look to maximize existing production in this, one of America's most prolific oil and gas plays.
---
Not only is Oracle Energy (OTC: OECCF / TSX.V: OEC) aware of the technology that can make their lives easier and their company better, they aren't shy about moving aggressively. The only way any oil company is going to grow going forward is to keep a keen eye on new technological developments and use them to increase production efficiency, decrease wear on equipment, and keep overall costs low.
Beyond that, it's important for any oil production company to have a steady means of production. For OEC, their current focus on the newly acquired Eagle Ford leases is that means. This is a proven region with assets that OEC can take over and improve, as well as plenty of additional, untapped opportunities. Oracle can also, as they progress, apply their technical expertise to maximize the existing assets they acquire. This will give them a boost that most relatively small oil companies have never had access to.
It's our belief that early investors who back companies making aggressive pushes in the oil and gas sector will experience the biggest gains. Oracle Energy has the opportunity to quickly advance to the top of that list.
USA News Group
Editorial Staff
[yahoo]
---
---
Sources:
1 – https://www.vox.com/energy-and-environment/2017/9/13/16293258/ev-revolution
2 – https://www.vox.com/2016/5/6/11569202/aviation-emissions-solar-plane
3 –  http://www.americanenergyindependence.com/fuels.aspx
4 – https://www.maritime-executive.com/article/transport-uses-25-percent-of-world-energy#gs.=uU7ME8
5 – http://www.slate.com/blogs/moneybox/2015/05/21/oil_use_in_transportation_this_chart_shows_how_it_s_losing_ground.html
6 – https://www.epa.gov/fuel-economy-trends/highlights-co2-and-fuel-economy-trends
7 – https://www.bbc.com/news/business-42653988
8 – http://money.cnn.com/2018/04/26/news/companies/oil-prices-kyle-bass-markets-now/index.html
9 – http://www.oracleenergy.com/s/Home.asp
10 – http://www.oracleenergy.com/s/NewsReleases.asp?ReportID=829045&_Type=News-Releases&_Title=Oracle-Announces-Change-Of-Strategy-And-Agreement-To-Acquire-Oil-And-Gas-As…
11 – https://eaglefordshale.com/
12 – https://www.inc.com/andrew-medal/how-technology-is-saving-oil-gas-industry.html
---
Disclaimer
Nothing in this publication should be considered as personalized financial advice. We are not licensed under securities laws to address your particular financial situation. No communication by our employees to you should be deemed as personalized financial advice. Please consult a licensed financial advisor before making any investment decision. This is a paid advertisement and is neither an offer nor recommendation to buy or sell any security. We hold no investment licenses and are thus neither licensed nor qualified to provide investment advice. The content in this report or email is not provided to any individual with a view toward their individual circumstances. USA News Group is a wholly-owned subsidiary of Market IQ Media Group, Inc. ("MIQ"). MIQ has been paid a fee for Oracle Energy Corp. advertising and digital media from the company directly. There may be 3rd parties who may have shares of Oracle Energy Corp., and may liquidate their shares which could have a negative effect on the price of the stock. This compensation constitutes a conflict of interest as to our ability to remain objective in our communication regarding the profiled company. Because of this conflict, individuals are strongly encouraged to not use this publication as the basis for any investment decision. The owner/operator of MIQ own shares of Oracle Energy Corp. which were purchased as a part of a private placement. MIQ will not buy or sell shares of Oracle Energy Corp. for a minimum of 72 hours from the publishing date of this report (October 1, 2018), but reserve the right to buy and sell, and will buy and sell shares of Oracle Energy Corp. at any time thereafter without any further notice. We also expect further compensation as an ongoing digital media effort to increase visibility for the company, no further notice will be given, but let this disclaimer serve as notice that all material disseminated by MIQ has been approved by the above mentioned company; this is a paid advertisement, and we own shares of the mentioned company that we will sell, and we also reserve the right to buy shares of the company in the open market, or through further private placements.
While all information is believed to be reliable, it is not guaranteed by us to be accurate. Individuals should assume that all information contained in our newsletter is not trustworthy unless verified by their own independent research. Also, because events and circumstances frequently do not occur as expected, there will likely be differences between the any predictions and actual results. Always consult a licensed investment professional before making any investment decision. Be extremely careful, investing in securities carries a high degree of risk; you may likely lose some or all of the investment.