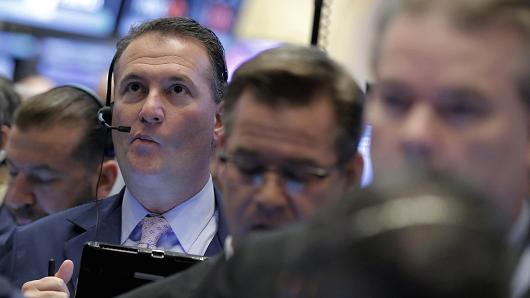 The Nasdaq composite jumped to an all-time high on Thursday as dealmaking activity lifted technology and media shares.
The tech-heavy Nasdaq rose 0.9 percent to 7,761.04 with Facebook also reaching a record high. Netflix and Alphabet also contributed to the index's gains. The S&P 500 also closed higher, climbing 0.3 percent to 2,7872.49.
Shares of Twenty-First Century Fox rose 2.1 percent after NBCUniversal-parent Comcast announced a bid to buy several major units of the media giant for $65 billion. Comcast's bid tops Disney's, which agreed to a $52.4 billion deal. Comcast shares rose 4.6 percent while Disney gained 1.3 percent.
"I think this is really their opportunity recreating a company that looks like Disney," said Rich Greenfield, an analyst at BTIG, on CNBC's "Squawk Box."
Comcast CEO "Brian Roberts was sort of embarrassed when Comcast tried to buy Disney [in 2004]. That was a very difficult time for Comcast. … In 2015, Disney was one of the lead complainers about stopping the Comcast acquisition of Time Warner Cable, another loss for Brian. I just don't think Brian will lose a third time," Greenfield said.
Comcast's bid came a day after a judge approved AT&T's acquisition of Time Warner. Last year, the Justice Department sued to block the merger, arguing it would potentially lead to higher prices for the consumer. AT&T shares rose 1.5 percent, while Time Warner gained 1.3 percent.
The Dow Jones industrial average, meanwhile, slipped 25.89 points to close at 25,175.31 as a decline in bank stocks offset Disney's gains.
Shares of J.P. Morgan Chase and Goldman Sachs pulled back 1.8 percent and 0.1 percent, respectively. Bank of America, and Morgan Stanley also fell. Bank stocks fell after the European Central Bank said it would hold off on raising rates until next year, sending Treasury yields lower. The benchmark 10-year yield fell to trade at 2.94 percent.
The ECB announcement "does not come as a surprise, said Komal Sri-Kumar, president of Sri-Kumar Global Strategies. He noted that "euro zone grown has slowed in the first quarter after good region-wide growth performance in 2017" and added "there is no urgency to tighten" as inflation in the euro zone is still below the central bank's target.
The Commerce Department said retail sales rose 0.8 percent in May, well above a Reuters estimate of 0.4 percent. That also marked the biggest gain in retail sales since November. In the premarket, stock futures added to their gains following the data's release.
"After a mediocre start to the year, … consumer spending in Q2 has definitely improved," said Peter Boockvar, chief investment officer at Bleakley Advisory Group. "Consumers are seeing the tax cuts in their paychecks and higher wages which is helping to offset a rising cost of living."
The Labor Department also reported that weekly jobless claims fell to a near 44½-year-low last week, pointing to a tightening jobs market.