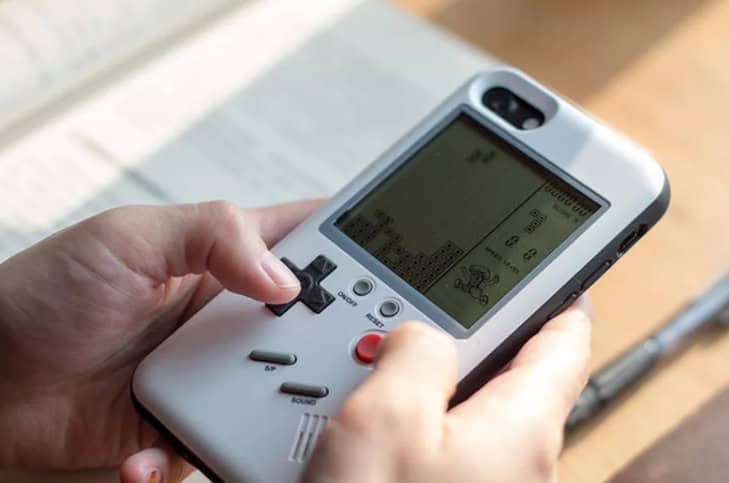 Another Game Boy case for your phone has popped up on the market, this time from Wanle Cases. The slim case, which snaps onto the back of an iPhone 6, 6S, 6 Plus, 7, 7 Plus, 8, 8 Plus, or X, comes loaded with 10 games and has the familiar Game Boy controls layout.
Wanle's case taps into a certain nostalgia, built with an old-school screen and pre-loaded with retro titles like Tetris, Tank, Formula One Racing, and Snake and Block. It's unclear from the company's website if you're limited to the games that come with the case, but hey, 10 games should be enough to waste away some time. This is markedly different from the Smart Boy phone "case" that made the rounds in 2015, which was really more of a dock you had to place your phone into.
What's attractive about Wanle's design is that it's unobtrusive. Not only does it not interfere with using your phone as normal, but it's also made with full port access for your phone's buttons, microphone, speaker, headphone jack, dock, and flash. It's worth noting that several reviews on Wanle's site note minor issues, like the quality of the materials used, and the buttons sometimes not working as they should. Overall, though, it seems it does work as intended and people do note they love using it even with these tiny gripes.
To use the case, just slide a small battery into the inside corner, snap it on as you would any other sort of regular phone case, and it's immediately good to go. Wanle touts that the plastic and slightly raised buttons make it practical as well, protecting your phone against inevitable falls and bumps. As nifty as it is to have a case that actually does something fun, it also makes me anxious about the possibility of having double the number of screens to potentially crack and scratch.
The case is available right now in both black and white options for a discounted price of $24.95. The company's website says the regular retail price is $79.95.